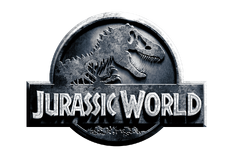 Jurassic World is the fourth instalment of the Jurassic Park Franchise, and is set on Isla Nublar, the location of the original film.
This is my version of Jurassic World, not the film's premise.
Synopsis
Four years after the Opening of Jurassic World.
Cast
Bryce Dallas Howard as Claire
BD Wong as Dr. Henry Wong
Jake Johnson as Lowery
Brian Tee as Hamada
Fanon Characters
Screenplay
Story
OCEAN
(It's a nice sunny morning and birds flutter through the blue sky. A Ferry sails toward an island in the distance, The ferry is white with aload of tourists aboard it and writing is written across the front it reads "Isla Nublar".)
FERRY
(Aboard the ferry, tourists stand on the bow look forward at the island with smiles on the their faces. A boy Kyle Stellar, brown hair, peach face and green eyes, sits at a table drinking a shake. His mother, Mishella sits facing him, smiling.)
Kyle: I wonder what this park has?.....
Mishella: Dinosaurs, Kyle. Big Dinosaurs.
Kyle: So I suppose the website is true then?..
Mishella: Yep, it is. Honey, I'm very proud of you for finally getting out of the house for a brand new adventure, let's face it, you're friends did beg you to bring them.
Kyle: They did, Liam said his father who works for the company, he went to the park before it was opened and was dazzled about the designs.
Ferry Announcer: If you look closely you can almost see the island of Isla Nublar, Jurassic World is known for it's dinosaurs and more shops than you can shop in.
Kyle: I'm up for T-rexes and Veloraptors there!! (shouts to announcer)
Ferry Announcer: Yes, they will be plenty of dinosaurs to choose from in Jurassic World, including our herbivores that you'll see while aboard the monorail.
MAIN STREET - A WHILE LATER
(-)
Trivia
This story is set in 2009, six years before the Incident in Jurassic World happens.
Ad blocker interference detected!
Wikia is a free-to-use site that makes money from advertising. We have a modified experience for viewers using ad blockers

Wikia is not accessible if you've made further modifications. Remove the custom ad blocker rule(s) and the page will load as expected.