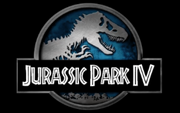 Jurassic Park 4
---
Directed By:
---
Produced By:
---
Screenplay By:
---
Based On: Jurassic Park by Michael Crichton
---
Starring:
---
Music By:
---
Cinematography:
---
Edited By:
---
Production Company:
---
Distributed By:
---
Release Date: 2010
---
Running Time:
---
Country: USA
---
Language: English
---
Synopsis
17 years ago, John's dream of opening a wildlife park full of cloned dinosaurs. Came to an end after the island's power was turned off, Now isla nublar is transformed into a
Characters
Dinosaurus
Ad blocker interference detected!
Wikia is a free-to-use site that makes money from advertising. We have a modified experience for viewers using ad blockers

Wikia is not accessible if you've made further modifications. Remove the custom ad blocker rule(s) and the page will load as expected.