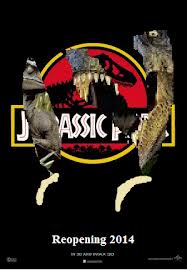 I have decided to write what JPIV should be like, not something like fighting from the first letter to the last, but an actual Jurassic Park movie and novel, the fighting in spades. The chapters will be in Acts. The chapters will be short in the beginning, but will grow longer as the project progresses. Inspired by Styracosaurus Rider's Jurassic Park IV: Extinction (original version), MismeretMonk's The Malcolm Effect ,and Ten Tailed Fox's Return to the Lost World: Jurassic Park.Rated PG-13 due to Violence,Blood,and Gore.ALL SHORT CHAPTERS WILL BE UPDATED WHEN STORY IS FINISHED.THIS IS NOT PART OF PYTHNUT.DON'T EDIT THIS OR EXISTING CHAPTERS WITHOUT MY PERMISSION.
Tagline: They're back.This time......... WE'RE EXTINCT!
Tagline II: Bigger.Stronger.Faster.Equal.EXTINCTION!
General Plot
It takes place on Januray 8-12,2025, when we have built robots the size of Godzilla. With a new island,
Isla Tyrannus
, which is packed with dinosaurs and other creatures, such as Megalodon and Ice Age creatures. It is a popular tourist location. One trip goes wrong, and the passengers find things that are Bigger, Stronger, and Faster than they orignally thought.
Act I: Prolouge
Act II: Jurassic Park
Act III: Isla Tyrannus
Act IV: Extinction
Organisms
The Making of JPIV:Extinction (P9449)
Behind the scenes of the article.
Act I:Prolouge
Act II:Jurassic Park
Act III:Isla Tyrannus
Act IV:Extinction
Deaths
The deaths in the story.
InGen worker
Hadrosaurus
Plane Pilot
Lewis Dodgeson
Giganotosaurus
A FISH!
Parasaurolophus
Camptosaurus
Ouranosaurus
Paralititan
Argentinosaurus
Amphicoelias
Page links
These are links to the creature pages in this story.DON'T EDIT WITHOUT MY PERMISSION.THIS DOES NOT APPLY TO THE REAL LIFE ANIMALS.

Tyrannosaurus Rex(JPIV:Pythor9449)

Spinosaurus Aegypticus(JPIV:Pythor9449)

 Carcharodontosaurus Saharicus (JPIV:Pythor9449)
Carcharodon Megalodon(JPIV:Pythor9449)
Pliosaurus Funkei(JPIV:Pythor9449)

Mosasaurus Hoffmani (JPIV:Pythor9449)
Liopluerodon Ferox (JPIV:Pythor9449)
Amphicoealias Fragamillus (JPIV:Pythor9449)
Trivia
Ad blocker interference detected!
Wikia is a free-to-use site that makes money from advertising. We have a modified experience for viewers using ad blockers

Wikia is not accessible if you've made further modifications. Remove the custom ad blocker rule(s) and the page will load as expected.