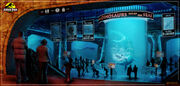 The
Jurassic Park Aquarium
is an attraction in Jurassic Park where people could see the dinosaurs of the seas.
Creatures
Sea Dinosaurs
Mosasaurus
Kronosaurus
Plesiosaur
Elasmosaurus
Nothosaurus
Preshistoric Sharks
Prehistoric Sea Creatures
Exhibits
Mosasaurus Show
Megalodon Tank
Megapiranha Falls
Elasmosaurus Tank
Xiphactinus Exhibit
Colossal Squid Cave
Gallery
Ad blocker interference detected!
Wikia is a free-to-use site that makes money from advertising. We have a modified experience for viewers using ad blockers

Wikia is not accessible if you've made further modifications. Remove the custom ad blocker rule(s) and the page will load as expected.