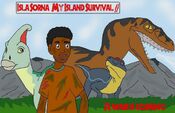 Isla Sorna:My Island Survival is a fan-story written by Gloverboy21 (yours truly) about one human's determination to beat Eric Kirby at surviving Isla Sorna.
First plot
It's time somebody outdid Eric Kirby's eight weeks stay on the island. And that would be me. With danger on every side, will I survive? or will a raptor pack end me.
Next plot
A continuation of my previous complete story. My island adventures on Isla Sorna are about to get pretty intense when a neighboring raptor pack is on the verge of taking over. losses will arise and as an oncoming battle will soon begin, how will I survive?
Disclaim
Disclaimer: I do not own Jurassic Park titles, logos, merchandise, or any other materials that are related in any shape and/or form. I am only one of many of the biggest fans of Jurassic Park movies and games and love anything about dinosaurs. I do not wish to make any profit(nor expect any anyway).
Gallery
Ad blocker interference detected!
Wikia is a free-to-use site that makes money from advertising. We have a modified experience for viewers using ad blockers

Wikia is not accessible if you've made further modifications. Remove the custom ad blocker rule(s) and the page will load as expected.