CINDER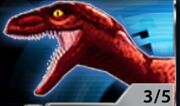 Info
Diet:Carnivore
Height:1m 38cm
Known for:incredibly fast speed.
Gender:Male
Location:Isla Rotrak (a new island made by me),Foggy Jungle.
Species:Velociraptor
Story
So,Simon Masrani & Dr.Wu found a new island never knew before-Isla Rotrak. Of course they built a laboratory there. But this time they wanted something....unusual. So they started creating Dinos with unusual colors,some Dinos were smaller than their species,some were bigger (for example-a Baryonyx Gator is 2x bigger than a normal Baryonyx). Cinder is one of them.
Episode 1:Cinders B-Day
Coming tommorow.
Ad blocker interference detected!
Wikia is a free-to-use site that makes money from advertising. We have a modified experience for viewers using ad blockers

Wikia is not accessible if you've made further modifications. Remove the custom ad blocker rule(s) and the page will load as expected.