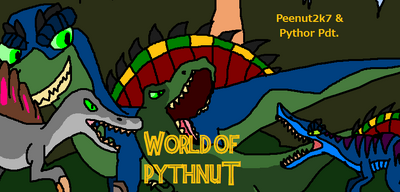 The Pythnut Series is one of the largest series on the Wiki, and is still ongoing. A Series 2 is being pondered, as Series 1 (Kill or be Killed until Final Leg, AKA the Tyrannus Saga) has ended. It is possible that Series 2 will introduce a new island, and possibly take a different, less action-based direction, possibly even an emotional direction. Series 1 ran from August 2012 until April 2013.
Pages in category "PYHNUT"
Ad blocker interference detected!
Wikia is a free-to-use site that makes money from advertising. We have a modified experience for viewers using ad blockers

Wikia is not accessible if you've made further modifications. Remove the custom ad blocker rule(s) and the page will load as expected.